Race Page Pro Partners with Pit Viper Lights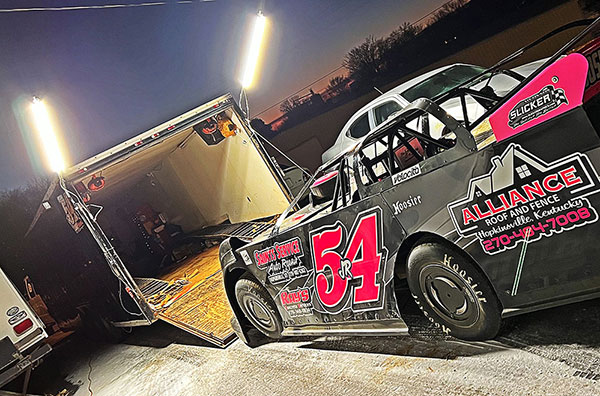 Pit Viper Lights manufactures pit lights along with other types of recreational lighting.
Many of you in the racing community have seen Pit Lights over the last 12 months at tracks throughout the country, and I had started seeing them myself at my local race track. I was intrigued by the product, and when approached to partner with Pit Viper Lights, I was immediately interested.
Initially, our main focus was to look at the current pit lighting on the market and design a better product, a better mousetrap, you might say. When looking at the engineering and design elements of the product, We immediately decided that some changes needed to happen if the racing community was going to embrace this long term.
First, the way the fixtures (bulbs) were attached to the poles was flawed, and most racers were using zip ties to keep the lights from falling off. Our first step was to change to a much better mounting clip made of plastic that better secures the fixtures and will not cut you like the sharp metal clips.
The second significant change needed was getting away from a "kit" that arrived at your home. What struck me as odd was receiving a bunch of parts in a box with no instructions. At Pit Viper Lights, we pre-drill all the holes, and the mounting brackets are pre-assembled, making assembly quick and easy.
So instead of receiving a kit that you have to figure out, measure, drill holes, and put together, you receive pre-assembled major components that only take minutes to put together.
Lastly, we addressed the issue of taking apart and storing pit lights in your trailer. On our 10 foot sets, we mount both lights on one pole, and the two poles are put together with a heavy-duty quick-release connector tube. The poles can be assembled and disassembled in seconds.
Pit Viper Lights offers several product configurations with different lighting levels and construction to fit all types of racing.
The first product we tackled was a long 10 foot light set with dual fixtures on the end of the poles, so the light is out over your work area. We also mount both fixtures on a special mounting bracket, allowing the lighting angle to mainly hit the ground instead of being lost out into space.
Pit Lights serve a few different functions, but the primary 2 are pit safety and making it easier to work at night in pits that aren't well lit. All available models accomplish this, but the 10 foot dual 20,000-lumen set is the brightest set we manufacture.
Along with the 10-foot dual set, Pit Viper Lights makes four other configurations, including a single pole 5,000 lumen light perfect for kart racing or if you need a small amount of additional lighting in your pit area.
Top-quality parts and manufacturing processes ensure your pit light set will last. While using top-quality parts, we have managed to create a line of pit lights that range from $99-$269, depending on your lighting intensity and product needs. I partnered with Pit Viper Lights to help grow their brand and design pit lights that the racing community will see as quality products. We hope you will find the level of details created in our product line to be what your race team needs for this season and beyond.
Please be sure to follow us on social media for deals and prizes.
Facebook: @PitViperLights
Instagram: @PitViperLights
Thanks for reading!
About the Author: David Chambers is the founder of Race Page Pro and a fellow racer of 34 plus years as a dirt late model crew chief.